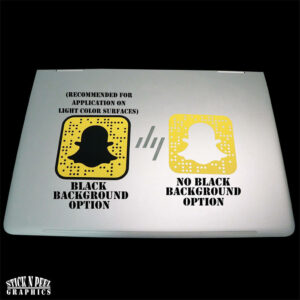 Vinyl decal of your custom snapchat code. Use this to connect with friends on snapchat. Your decal will not contain your bitmoji image as this is a cut decal. It will appear how it does in the product image.
We cannot guarentee this products will scan. It is made with cut vinyl and each dot is see through to whatever the decal is applied to. Your camera may have difficulties scanning if it is on a light-colored surface. They will not scan while on the white backing paper they come on unless you get the black background option. That option will add a layer of black vinyl behind your snapcode so that it is always on a dark surface. This will also not contain your bitmoji. It will look like the product image. If you want your bitmoji on the product, we suggest our printed snapcode stickers. Our printed stickers scan much easier as they are more identical to how the code would look on your screen.
How to Download my Snapcode
1. Go to
https://accounts.snapchat.com/accounts/snapcodes
2. Login using your snapchat username and password
3. Click on DOWNLOAD SNAPCODE
4. upload the Snapcode.zip file containing your snapcode in different formats
Printed on premium, durable, outdoor vinyl.

Laminated to ensure durability and protect from fading.

Waterproof, UV and Weather Resistant.

Up to 5 years outdoor life.

Bulk Discounts. The more you buy, the more you save!
Snapchat Custom Scannable QR Snapcode Vinyl Decal