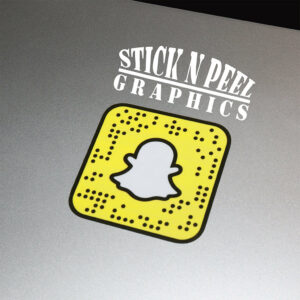 Get your Snapchat Snapcode printed into a sticker! We use durable, water proof, UV resistant materials to ensure that your stickers last! These scannable stickers really work and can be scanned with the Snapchat app to help people find your social media! They also work with snapcodes of websites that you can make on snapchat's website!
How to Download my Snapcode
1. Go to
https://accounts.snapchat.com/accounts/snapcodes
2. Login using your snapchat username and password
3. Click on DOWNLOAD SNAPCODE
4. upload the Snapcode.zip file containing your snapcode in different formats
Printed on premium, durable, outdoor vinyl.

Laminated to ensure durability and protect from fading.

Waterproof, UV and Weather Resistant.

Up to 5 years outdoor life.

Bulk Discounts. The more you buy, the more you save!
Snapchat Snapcode Scannable Printed Vinyl Sticker