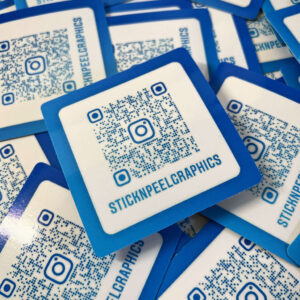 This is a printed vinyl sticker of your instagram nametag, Use this to allow for quick sharing of your instagram page! Choose your background selection on instagram and submit the one you like best!
Instructions
In the Instagram application, go to your profile.
In the upper right hand corner, tap the three lines as pictured below.
On this screen, tap the name tag icon as pictured below.
Your instagram name tag should appear. This is also the screen where you can scan them. Screenshot the page and upload the image! Customize the color/background by clicking where it says 'color' on the top. Submit the image of the one that you like best. You can also click the icon in the top right corner to directly save the image instead of taking a screen shot.
This is what the image you upload should look like!
Printed on premium, durable, outdoor vinyl.

Laminated to ensure durability and protect from fading.

Waterproof, UV and Weather Resistant.

Up to 5 years outdoor life.

Bulk Discounts. The more you buy, the more you save!
Instagram Scannable Nametag QR Printed Sticker