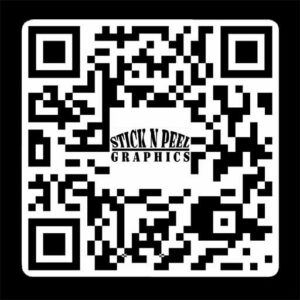 Create your own QR code as a printed sticker! Slap it somewhere for people to find and scan!
We can do variable printing! If you want every sticker to be a different QR code, upload a .csv/.xlsx file with what you want the QR code to scan to. If you want labels under the QR codes to what they scan to, include those in a separate column. Feel free to reach out if you have any issues creating the excel file.
We recommend https://www.qrcode-monkey.com/ to create your custom QR Code! Just upload the HIGH QUALITY .png file, select your size, and get your stickers! You're able to include your logo, customize the colors, and more! If you want us to generate the QR code, you can enter the URL in the textbox instead of uploading the QR code file.
Want to design your own? You can use our product designer to generate QR codes, add pictures, text, and more!
Custom QR Code Vinyl Printed Sticker
Great Service
Excellent turn around time! Great quality QR code. Will definitely order from them again
Very good quality UV protected QR code sticker for vehicle
Impressed by the high quality and speed of shipping of the QR code sticker used for vehicle. Able to use window with sticker without issue to roll up and down. Would highly recommend this company to those considering for similar applications and will use for all future needs.
Great Product!
Great final product! East online ordering and quick shipping. Will use again!
Great quality graphics, happy with my order.